Obituary for Alberta Harvey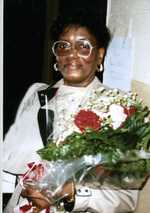 Ms. Alberta Harvey was born on February 27, 1933 to Mr. and Mrs. William Harvey of
Gadsden, Alabama. She was raised in Gadsden, Alabama and at an early age she
confessed Christ at Bethlehem, Baptist Church. As the 4th oldest of 14 children, sisters
Willie Mae Harvey, Lula B. Rodgers, and Ruth Harvey survive her. Ms. Harvey died
February 4, 2018, of a long-term illness.

As a child she was known as hard working and took pride in being known as the hardest
working child on her parent's farm. This experience as a child served as the foundation of
her work ethic throughout her life.

In 1961, she migrated to New York in search of a better life and employment opportunities
for her family. She held various jobs and retired after 25 years of exemplary service from
Lufthansa Airlines in the first – class food division.

She was known as a loving mother and kind person who gave candid advice to family and
friends. She enjoyed gardening and listening to music, her favorite group was The
Temptations. She was also a wonderful chef and always welcomed the community to enjoy
the feast she prepared with her oldest sister Willie Mae Harvey.

She leaves to celebrate her life: her long time companion, Jimmie Lowe, her seven
children, Rocky Harvey (Pia) of Stone Mountain, GA, Sheila Menzies (Robert) of Queens,
NY, Derek Harvey (Nene) of Queens, NY, Glenda Berkeley (Leonard) of Harlem, NY,
June Allyson Harvey (Thomas) of Brooklyn, NY, Michael Harvey of Queens, NY,
Gregory Harvey (Bridget) of Queens, NY. As well as twenty-seven grandchildren, twenty
great- grandchildren, three great-great grandchildren and a host of cousins, nieces,
nephews, and friends.

Order Flowers