Obituary for Barbara "Joan" Yarde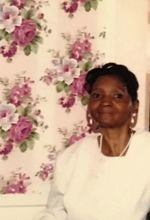 Barbara Yarde, also known as Joan/Joanie passed peacefully from this life the night of May, 23 after a decline in health. Barbara was born on March 2, 1946 to Marjorie Whyte and Randolph Allen in Guyana, South America. She was the last of three children for Marjorie and third for Randolph.

Barbara had five children: Noel, Andrew, Vivian, Jennifer, and Debra. She also had her stepdaughter who she was very fond of and treated as her own, Leoni.

Barbara migrated to the United States in March, 1970 to join her husband Vivian Noel Yarde in New York. Through hard work and sacrifices they were able built a decent life for their children. She was best known as a family orientated person and she appreciated every moment she spent with them. Barbara loved the Lord and served him daily; she infused biblical and moral values of life into her family members. She helped raise her grandchildren and gave them advice when needed. Barbara was also the person who everyone would go to when they encountered problems; she would give her opinion and shed light on their situation. She also enjoyed cooking and serving people, whenever she cooked a meal she would share it with everyone within her surroundings.

Barbara is survived by her five children: Noel, Andrew, Vivian, Jennifer, and Debra; stepdaughter: Leoni; sons–in–law: Craig, Gary, and Joseph ; daughters–in-law: AnnMarie, and Carleen; Fourteen grandchildren: Noel Jr, Andrew Jr, Donell, Kristine, Jaszmine, Angeleeka, Tyraye, Brandon, Trysten, Christopher, Cheyenne, Elizabeth, Austin, and Madelyn; Seven great grandchildren: Trevon, Noel III, Faith, Krystal, Breanna, Geo Jr, and Josiah; Four siblings: Joyce, Norma, Claudette, and Clement.

Order Flowers
Affiliations


Guyana Flag
The insignias listed here may be subject to copyright and / or trademarked. Those copyrights and trademarks are owned by the respective organizations.