Obituary for Tommie McDowell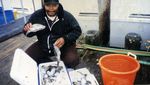 Bro. Tommie Ray McDowell was born to Gethie Graham McDowell and Tom McDowell on August 15, 1936 in Proctorville, N.C. Tommie was the youngest of five children. Brothers, Peter & Bracey McDowell and Sister, Elizabeth McDowell all preceded him in death. He attended and graduated from Proctorville High School, Proctorville, N.C. in May 1956.

After graduating from high school, Tommie married his high school sweetheart Virginia Floyd on December 31, 1956. After the wedding they relocated to New York City. Once they arrived at their new destination, Tommie attended and graduated from the Police Academy. He was a dedicated and committed Patrolman for 20 years. He retired with honors. After retirement he needed something to occupy his time and he decided to get a part-time job at the Jamaica Bingo Hall as a guard.

Tommie and Virginia had two sons, Anthony Wallace McDowell and Demetrius Delane McDowell, both preceded him in death.

Tommie was baptized at the Freewill Baptist Church in Proctorville, North Carolina, however on relocation to Queens, New York he attended Bethany Baptist Church with his wife.

Tommie's passion was fishing. He was an avid fisherman.

He leaves to cherish his memory: a loving wife, Virginia of 61 years, Sister, Ida Arnette, Wilmington, Delaware; 2 sisters in law, Betty (Joe)McNair, Cathi McDowell; a favorite niece, Shirley McDowell. There are some special people who were there for him at all times; Tilmer & Bobbi Ann Plummer, R. C. Coleman, Martin & Josephine Brown, Wilton Jones and "Ike" from Virginia, also classmate Etister Barnes and a host of nieces, nephews, other relatives and friends.

Tommie we love you, but God loves you best.


Order Flowers
Affiliations


New York City Police
The insignias listed here may be subject to copyright and / or trademarked. Those copyrights and trademarks are owned by the respective organizations.