Obituary for Reginald Powell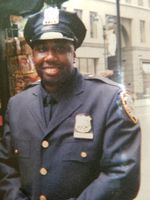 Reginald Eugene Powell was born to Larry and Valerie Powell on February 29th , 1976. He was raised in the Bronx River housing projects with his brother Kenneth Powell. Reginald went to IS 116 Junior High School and later attended Adlai Stevenson High School where he excelled in playing the saxophone. Reginald was also a point guard on his high basketball team.
Reginald was known to be very quiet, humble and sweet. Tall, slender, chocolate brown skin color, high cheek bones. Reginald was a sharp dresser.
Reginald attended Virginia Union State and was enrolled in the Law program. Reginald eventually transferred to Bronx Community College where he received his Associates Degree.
Reginald began his professional career as a security guard. His love for helping people led him to join the police academy .
Reginald met his wife Nadeje in the Spring of 2008. Their unique love of music and enjoyment of life led them to marry 3 years later.
Reginald had a passion for sports and was the ultimate fan for the Boston Celtics and Yankees. Reginald was an avid music lover and attended numerous concerts with his wife.
Reginald leaves behind his wife Nadeje Powell, brother Kenneth Powell, parents Larry and Valerie Powell, and host of cousins, nieces and nephews. Reginald joins his beloved grandmother in heaven. May he forever be in peace.

Order Flowers
Affiliations


Police Badge
The insignias listed here may be subject to copyright and / or trademarked. Those copyrights and trademarks are owned by the respective organizations.