Burial at Sea
Burial at Sea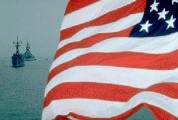 The National Cemetery Administration cannot provide burial at sea.
For More Assistance: If you have any questions about the Burial at Sea program, please contact the United States Navy Mortuary Affairs office toll-free at 1-866-787-0081. Or contact the Department of the Navy for information.
Active duty members and veterans buried at sea may be eligible for a Government-furnished headstone or marker.