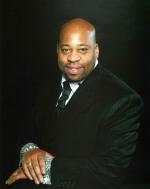 Chaplain Kenneth Brewster, CFSP, CPC, Funeral Director, Manager, Owner, 3rd Generation, Notary, Pre-Planning Consultant
Email: Chaplainbrewster@aol.com
Website: www.crowesfuneralhome.com
Office Phone: 718-558-0921
Fax: 718-558-0924
Mobile Phone: 917-217-4141

Born and raised by my strong, loving mother in Brooklyn, NY, my education started at Epiphany Lutheran Elementary School, then continuing at Bishop Loughlin Memorial High School. After graduating in 1986, I continued my studies in engineering at SUNY Farmingdale. Not stopping there, I earned an Associate Degree in Mortuary Science from Nassau Community College and became a New York State Licensed Funeral Director. I am the Manager, Executive Director and third generation of Crowe's Funeral Home, Inc. in Jamaica, NY. Crowe's Funeral home has been in existence for 64 years and was founded by the late Samuel A. Crowe. With my leadership, Crowe's Funeral Home has concern about the well being of our families and continues to provide outstanding service to the Queens community. I have held Pre-Need seminars throughout Queens and informs all who are interested about the necessary steps to take prior to and during the loss of their loved ones. Because of the continuous heartfelt concern for the families that I have served, my objective is to further my education in the area of Grief Counseling.

My professional memberships include:
New York State Funeral Directors Association
National Funeral Directors Association
Empire State Funeral Directors Association
Brooklyn/Long Island Funeral Directors Association
National Funeral Directors and Morticians Association

Volunteer Fire Fighter of the Middle Island Fire Department
Department Chaplain of the Middle Island Fire Department
Fire Commissioner, Chairman of the Middle Island Fire District
Member of the International Association of Fire Chiefs
International Federation of Christian Chaplains, Inc.
New York State Association of Fire Chaplains
Latin/African American Chaplains Association State of New York

In February, 2006, I fulfilled a lifetime dream of becoming a Volunteer Firefighter for Middle Island Fire Department. I was appointed as Chaplain for the Fire Department. I also became the 1st African American Member of the Department. In 2012, I was voted in by the Middle Island Tax Payers as Fire Commissioner of the Middle Island Fire District. Despite my busy schedule, I manage to care for those in need in both the community I work in and the community I reside in. As a member of Bethany Baptist Church, I have served on the Pastor's Anniversary Committee, Pastor's Aide and currently is the Chairperson of Publicity and Co-Chairperson of the Banquet Committee for Bethany's 80th Anniversary. Outside of Bethany Baptist Church, I also support the Ministers of other churches in the community. I also volunteer my time and sponsor various youth activities throughout the communities of Queens, such as Springfield Rifles Football team of Springfield Gardens and Miss Teen USA. When opportunity arises, I visit the elderly who are ill at hospitals and nursing homes. With God in my life, along with my wife of 15 years, all things are possible.