Our Heritage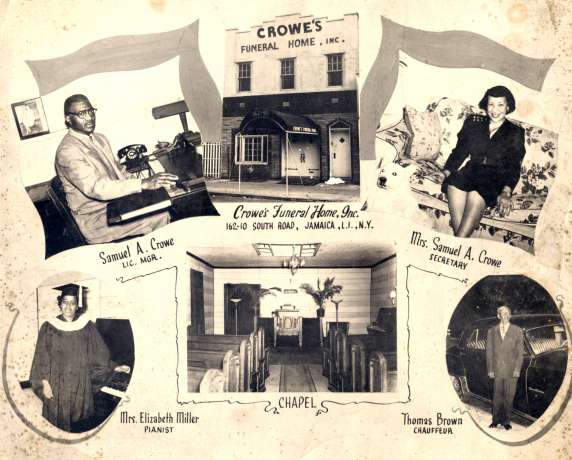 Where the History Started
South Road
In 1923, Samuel A. Crowe answered a called to do his life's work assisting and helping people in their time of bereavement. Realizing the nature of such a business he understood that there could be struggles and possible hardships starting a new business. He then secured a job with the New York Haven & Hartford Railroad in 1926. Together with a partner, he opened Fords Funeral Home in the early 1930s, his first funeral business.
Samuel met the former Evans J. Darthard who became his wife in 1934.
In 1945, Mr. Crowe established CROWE'S FUNERAL HOMES, INC. on South Road in Jamaica, New York. In order to care for the growing needs of the community, he opened a second branch on Rockaway Boulevard also in Jamaica, and later relocated and expanded the main office to the present Sutphin Boulevard location. Mrs. Crowe worked faithfully by his side until his death in 1982 and continued to operate the business until her passing in 1997.
Among African-Americans in the early 1940s, Samuel A. Crowe was one of the pioneers of the political movement and was instrumental in securing jobs for a number of African-Americans in the community. In the 1950s, he helped organize the Citizens-Evers Democratic Club, named after the late Medgar Evers. Mr. Crowe was affiliated with many of the local churches and ministers, as well as with many fraternal, civic and political organizations.
For 40 years, he was an active member of Alien AME Church, under the pastorate of the late Reverend John Dawkins when the church was located on 160th Street, holding the post of church trustee for many years.
Because of Mr. & Mrs. Crowe's daily efforts over the years, Crowe's Funeral Homes, Inc. became one of the most well known and successful family owned African-American funeral homes in New York.
Remodeling and beautification was done in 1997, thus bringing forth a facility with more spacious chapels, beautiful chandeliers, artwork and elegant interior with a spacious lobby for gatherings of family and friends.
Today the business is still family owned and operates in its second and third generations. Continuing the Crowe legacy, we pay tribute to our Founder and celebrate 64 years of outstanding service to our communities. We offer a continued tradition of Superior Funeral Service which we have provided for 64 years.
Kenneth Brewster, grand-nephew of the late Samuel A. Crowe, manages the funeral home and continues to make his presence felt in the community with much concern about the well-being of our families. With a little extra care, he continues to be a vital part of the community.
Rockaway Location in 1960's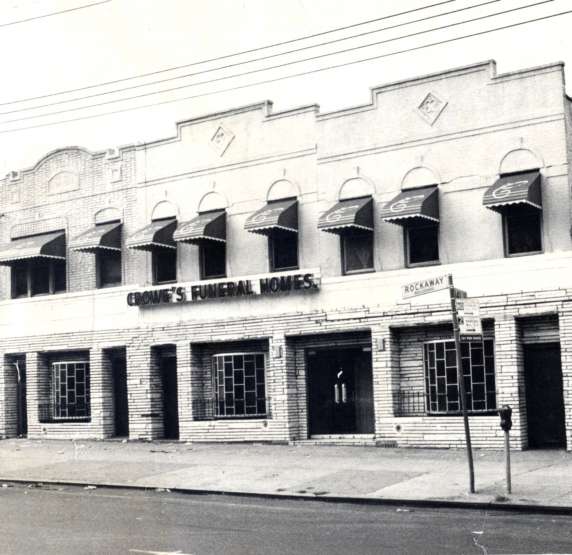 Rockaway Location in 1960's