Photographic Memories
How to View Photographic Memories

Crowe's Funeral Homes, Inc. has available to our families, if they choose, to present an online slide show of their loved one. This option is referred to as Photographic Memories. Please note that this is only shown if the family has elected to have this option available to online visitors.
Step #1 - Select the name of the deceased for whom you'd like to see the Photographic Memories, if available.
Step #2 - Navigate to the "Service Details / Tributes" tab at the bottom of the screen.
Step #3 - Select the 'Photographic Memories' option from the 'Memories' menu as shown below.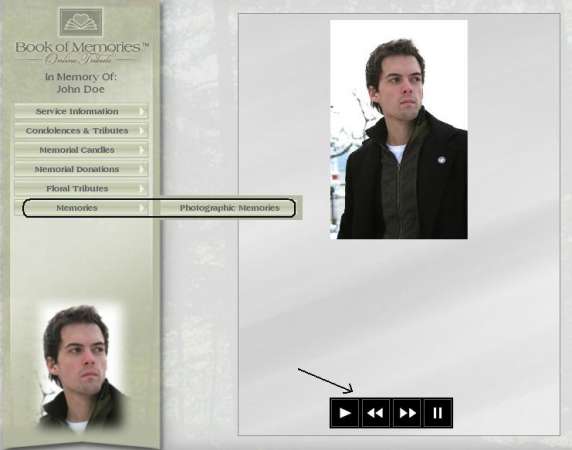 Step #4 - Once the Photographic Memories module loads, it should start loading an image a rotating through the images. If you do not see anything, press the play button to view.
You may pause on any photo, by selecting the pause button. You may choose to go back to a previous photo, select the pause button, then selects the back button, as shown below.